The Whitworth Art Gallery, Wednesday 9th November 2016
On Wednesday, the ESRC International Centre for Language and Communicative Development (LuCiD) joined forces with the Whitworth art gallery to host Art baby - Music baby – Language baby as part of this year's ESRC Festival of Social Science. The day comprised of 4 multi-sensory workshops for babies and their grown-ups, as well as the opportunity to talk to and take part in demonstrations with language development experts from LuCiD.
In the morning our researchers joined the existing Art Baby – Music Baby sensory workshops put on weekly by the Whitworth and their network of talented creative practitioners. In these free sessions, babies and their grown-ups explore stations set up with different colours, objects and textures, as well as enjoy music from a local musician. It's a real sensory feast for little humans.
Babies attending range in age from a few weeks up to just before they can walk (around a year, give or take a few months). Within this, you can see a range of developmental stages: babies who can't yet sit, to babies making a break for it on their hands and knees; babies who only make noise when they want feeding/ changing to babies babbling and starting to show signs of early 'attention sharing' communication through gestures such as holding out an object (a 'showing' gesture) or pointing. This created the perfect setting to talk to parents about language development. Our researchers joined in the sessions, talking to parents about the kinds of communicative skills their babies were displaying and about the various stages of language development.   
Attendees were also able to visit a number of stalls with information about how we know what children understand, even before they can speak. One research technique that helps us to know more about this is an eyetracker and parents were able to have a go. An eyetracker is a little camera that follows where a baby is looking, in simple terms for example, you can show a picture of a cat and a picture of a dog side by side accompanied by the instruction 'look at the cat', if the baby looks at the cat, you can be fairly confident they know what a cat is, even if they can't yet speak.   
The afternoon saw the pilot of Language Baby, a storytelling session designed for babies before they can talk. The sessions were a resounding success and showed that incorporating language alongside art and objects can captivate even the youngest of audiences.  
As well as having lots of fun talking with our scientists and watching their babies explore the sensory objects, many parents reported that they were more aware of their child's communicative skills following the event and that they would do more to support their development:    
Error loading Partial View script (file: ~/Views/MacroPartials/Blockquote.cshtml)
Error loading Partial View script (file: ~/Views/MacroPartials/Blockquote.cshtml)
Error loading Partial View script (file: ~/Views/MacroPartials/Blockquote.cshtml)
Thank you to everyone who helped make the day a success and to all the families who came along. We hope you enjoyed the day as much as we did.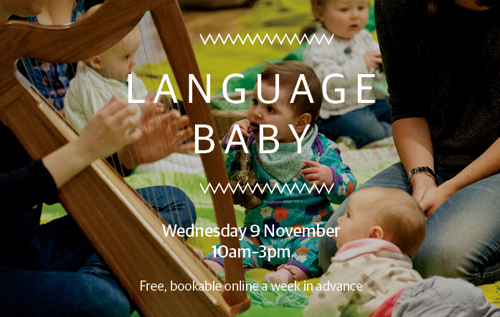 Author