Today is the last day of a month-long research visit to the ANU Language Lab here in Canberra, Australia. A LuCiD Travel Award has enabled me to spend March working with Evan Kidd and the Language Lab team learning all about the work they do here.
One purpose of my trip was to work with Sara Quinn on coding some of the play sessions we have been recording as part of the Language 0-5 Project. These sessions let us see how children use language in a more natural environment (as opposed to in the experiments we run with them) as well as how they interact with their parents. As part of her PhD thesis, Sara studied how parents and children play differently when they are playing with different types of toys. It probably would not surprise you to find out that children were more imaginative in their play when they had toys like a teddy bear and a tea set than they were when they were given a puzzle and a hammer and pegs. However, Sara also found differences in the interaction between parents and children when they were playing with the different types of toys, including differences in the way parents spoke to their child. Sara has developed various coding schemes to investigate these differences and has been incredibly helpful in training me on how to use these accurately with our Language 0- data.
Another aim of my visit to ANU was to learn about the Canberra Longitudinal Child Language Project (CLCL). Like the Language 0-5 Project, the CLCL Project is following the language development of a large number of children over the first five years of their life. Some of the studies we are doing for Language 0-5 are very similar, so it has been interesting to see how things are running here. It is amazing how important small differences are to how well a task works. For example, the order in which the babies do each task during a visit (eye-tracking, play session, etc.) has a big impact on whether or not they manage to finish everything. Similarly, making sure a baby is looking at the screen before you start a trial on an eye-tracking study means you know they are looking where you want them to, but it also slows the study down, meaning that more children have to stop before the end. By learning from one another's experiences, both the ANU Language Lab and the Liverpool Language Lab will hopefully be able to plan future studies that are even more successful!
I have also been able to find out about some of the studies that we are not running as part of Language 0-5. When the CLCL children are 9 months old, they take part in an EEG study. This involves them wearing a special cap with electrodes attached to it to measure the electrical activity on their scalp. This can tell us how the babies' brains react differently to different types of stimuli. We don't have this equipment available in Liverpool, so it has been great to see how Tara and Lauren, who run this study together, are able to keep the babies happy/ distracted enough to complete the experiment!
I have had a wonderful time in Canberra, and have learnt a lot that I can put into practice when I am back in the UK. I would like to thank Evan, Sara, Tara, Lauren, Seamus and Noëlie for making me feel so welcome and for sharing their knowledge with me.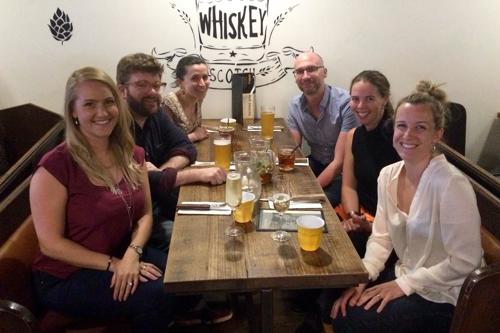 The ANU Team made Amy feel very welcome!
Author