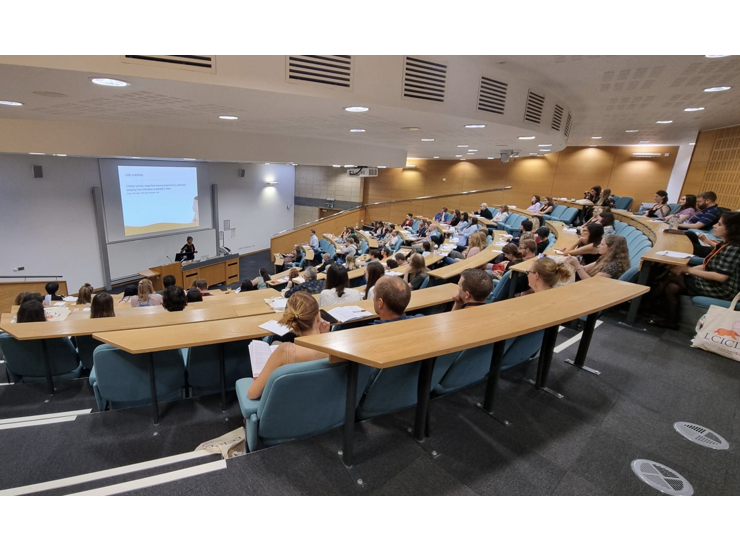 At the end of August 2022, I presented a poster at the Lancaster Conference on Infant and Early Child Development (LCICD). This is the first time I attended this conference and is the first conference I have attended in person since the pandemic.It was a really good experience and a conference I will plan to attend again in future.
LCICD is an annual conference that brings together researchers working on all aspects of development in children up to 4 years old. It is hosted by Lancaster University and takes place on the campus there – a great location with lots of green spaces. Even better, it is a single-track conference which means that there is no need to decide which talks to go to as attendees can go to everything!
The first talk was by keynote speaker Prof Nivedita Mani who summarised some of her work looking at curiosity and language, which is closely linked to the project I am currently working on. There was also a session of 3 talks that were all linked to curiosity too. Although these sessions were the ones that most closely aligned with my own work, I was fascinated by the breadth of topics that were covered in this conference, including temperament, lexical development, learning, vision, development in the global world, social interactions and mental representation. It would be impossible to choose my favourite session, but I did particularly enjoy the lively debate about looking times that was sparked by Prof Sylvain Sirois' talk on day one. This discussion was about what looking times (particularly proportions) generated from eye tracking data can tell us and whether pupil diameter is a better measure that we can access. I am still on the fence about what I think but what I am sure of is that there are many more of these debates to be had.
My poster, with University of Manchester placement student Mutinta Kampengele, and Dr Katherine Twomey was in the afternoon on the first day. It presented the coding scheme we have generated for exploring object manipulation and how this might relate to vocabulary learning. Here is a link to our poster if you want to find out more. It was a useful opportunity to talk to other researchers about our work even though we have not yet got any results to share. I had some interesting discussions about our hypothesis, our coding scheme, the analyses we have planned, and what we think we might show with these analyses. Typically, conferences require work to be completed before consideration at a conference, so this approach was refreshing and provided a unique opportunity.
In addition to the stimulating intellectual content attendees at LCICD are well provided for. Lunch was included each day and there were ample coffee breaks with snacks too. There was a conference dinner with entertainment by members of the organising committee and willing volunteers. This included Powerpoint Karaoke where volunteers had to improvise a talk they had not seen before. This was well received light relief after a busy day of talks.
Overall, LCICD was a well organised, supportive and friendly conference that encapsulates the breadth of research being conducted on early development. Unlike the larger conferences it was reasonably easy to find speakers and talk to them about their work following talks, something that can be challenging when there are parallel sessions and lots of attendees. In particular, LCICD seems to attract attendees from across the spectrum of experience from masters students to professors. Based on my experience, I would recommend this conference to anyone interested in child development research and I am sure it will become an annual fixture in my calendar.
The next LCICD with be in August 2023. You can follow LCICD on Facebook and/or Twitter to keep up to date. Call for abstract submission will be early next year. I hope to see you there. 
Author