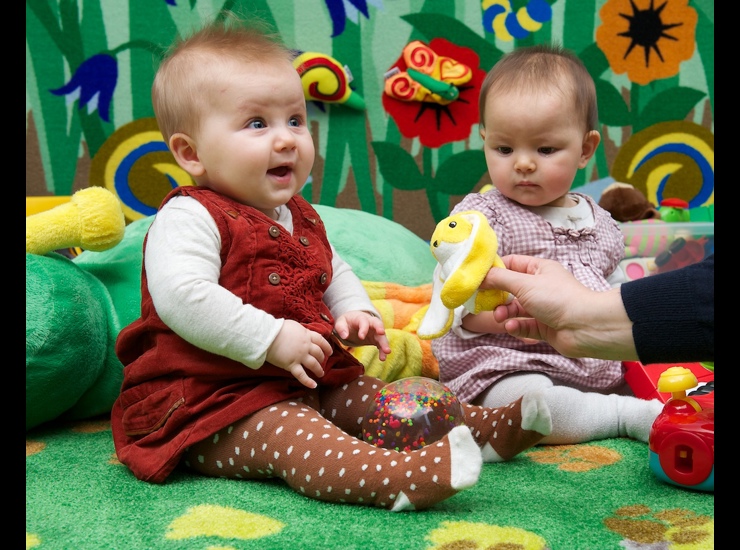 The Lancaster University Community Open Day is taking place on Saturday 6th of May, from 11am to 4pm at the Jack Hylton Music Room. Come and join Baby Sensory Lancaster for baby research put in practice, where they will provide fun activities that are based on years of research and aimed at aiding your baby's development. You can even find out where your baby is looking while you read a book. Dr Katie Twomey will also give a talk. 
The sessions run by Baby Sensory Lancaster during the Open Day will overlap with the May BabyLab Coffee Morning (Coffee Mornings are run regularly by the BabyLab on the first Saturday of the month). 
Open Day Schedule:
Session 1 - Teddy Bears Picinic, 11-11:30  – exploring textures, role play, imagination and hand eye co-ordination and exploring and developing fine motor skills
Session 2 - Tap & Clap, 12-12:30  – looking at how rhyming songs aid brain development using repetition to reinforce learning, and how action songs aid babies physical development strengthening muscles in neck and shoulders and increasing body awareness
Session 3 -Under the Sea, 13-13:30  – using multi sensory materials to explore the world around us with bubbles, puppets and our fantastic under the sea cloth 
Session 4 - Space Adventure, 14-14:30  – using lights, instruments and music to encourage eye tracking, group participation and a sense of fun!
For more information about the event, please contact Dr Louah Sirri on [email protected]
Author