LuCiD Principal Investigator, Prof Elena Lieven, has received a 'Researcher of the Year' award from the University of Manchester as part of its Distinguished Achievement Awards. These awards recognise outstanding performances and significant contributions to the University.
Elena was nominated by the Faculty of Medical and Human Sciences and received the award from the President and Vice-Chancellor at a ceremony in the University's prestigious Whitworth Hall. The award is a bronze medal engraved with Elena's name and portraits of Tom Kilburn and E.C. Williams.
Main Photo (top): (L-R) Elena's partner Pat Devine, Andrew Stewart, Director of Research for SPS, Colette Fagan, Deputy Dean for Research, Faculty of Humanities and Elena Lieven at the Reception.
Photo Below: Elena and the other award recipients. See if you can find her!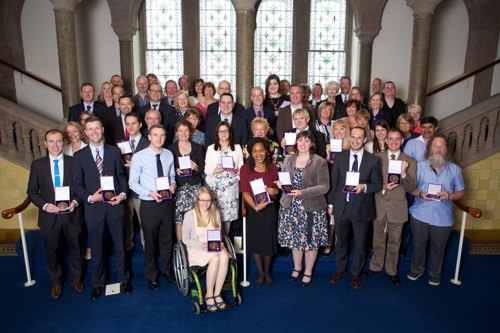 Author